Denver, Colorado –  Dr. Annelise Dawson, a board-certified dermatologist, begins seeing patients Aug. 27 in the Denver office of Apex Dermatology Group, part of U.S. Dermatology Partners. Dr. Dawson provides medical, surgical and cosmetic care to patients of all ages.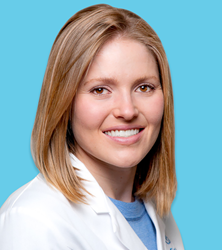 Dr. Dawson graduated from Harvard University with a bachelor's degree in biological sciences. She attended the University of Colorado School of Medicine, where she was inducted into the Alpha Omega Alpha honor society for academic excellence. She completed her Internship in internal medicine at Harvard's Brigham and Women's Hospital, followed by residency in dermatology at the top-ranked University of California, San Francisco, where she served as chief resident.
Dr. Dawson practiced dermatology in San Francisco for two years before returning to Colorado. She is a fellow of the American Academy of Dermatology and is a member of the Society for Pediatric Dermatology and the American Society for Dermatologic Surgery. She has authored numerous publications in peer-reviewed journals and has presented at national meetings, with specific focus on acne vulgaris and skin cancer prevention. She speaks English and Spanish.
Dr. Dawson has a passion for medical dermatology and is thorough and detailed-oriented in her clinical approach. She also enjoys the artistic element of cosmetic dermatology and prides herself in providing subtle, natural results. She has extensive experience in neuromodulators (Botox), fillers and laser surgery. Dr. Dawson is a thoughtful listener and cherishes the relationships she builds with her patients, helping them to maximize their skin health and beauty.
"We are excited to have a dermatologist of this caliber and character join our team." said Alexandra Theriault, MD.
Dr. Dawson is committed to community service and has contributed to efforts to promote sun safety awareness and minimize indoor tanning bed use among minors. She has volunteered her time to provide dermatologic care to the homeless and has been a leader in organizing free skin cancer screenings.
Dr. Dawson grew up in Littleton, Colorado, and now lives in Denver with her husband and son. She enjoys running, hiking, and exploring the natural beauty of Colorado.
About Apex Dermatology Group
The Apex Dermatology team, working in Denver for more than 15 years, boasts local experience, medical expertise and practice familiarity. We believe our comfortable and nurturing environment is vital to our ability to fully comprehend all of the medical and cosmetic needs of our patients. Our practice is working together to realize a shared vision of uncompromising excellence in dermatology.
U.S. Dermatology Partners
As one of the largest physician-owned dermatology practices in the country, U.S. Dermatology Partners patients not only have access to general medical, surgical, and cosmetic skin treatment through its coordinated care network, but also benefit from the practice's strong dermatology subspecialty thought leaders and medical advisory board. To be the best partners to its patients, U.S. Dermatology Partners is fervently focused on providing the highest level of patient-first care, and its team therefore includes recognized national leaders in areas such as clinical research, psoriasis and Mohs Surgery. To learn more, visit usdermatologypartners.com.
Find a location near me